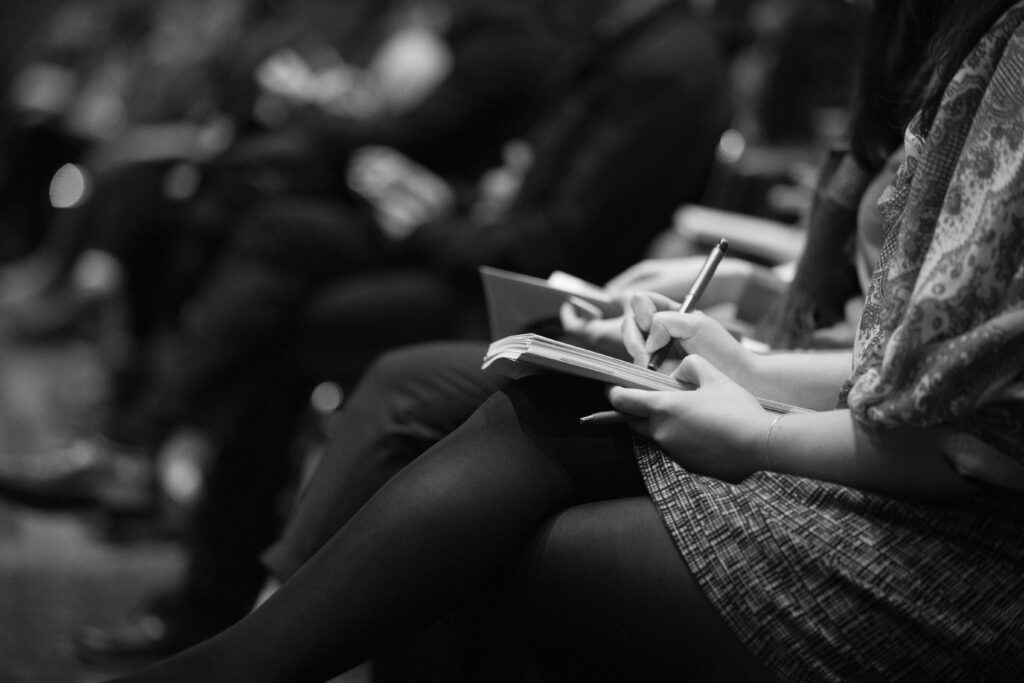 Photo by The Climate Reality Project
The following dynamic initiatives collectively contribute to the vibrant landscape of documentary filmmaking, offering invaluable opportunities for learning, collaboration, and the cultivation of impactful narratives. We invite you to explore their respective websites for more detailed information.
CIRCLE Women Doc Accelerator
Website: https://www.doccircle.me/
Established in 2018, CIRCLE Women Doc Accelerator is an annual training program designed for the creative aspirations of up to 10 women and non-binary directors and producers. Focused on documentary projects with robust international appeal, the initiative spans three modules, incorporating group work, individual consultations, case studies, film screenings, and masterclasses by renowned mentors. Over its five-year existence, CIRCLE has nurtured 50 directors and producers from 35 countries, boasting an impressive 95% success rate with projects receiving international funding or premiering at prestigious film festivals.
Documentary Campus Masterschool
Website: https://www.documentary-campus.com/
A leading European professional training initiative for over two decades, Documentary Campus Masterschool provides tailored guidance to both traditional and immersive filmmakers. Through a blend of private and public workshops, webinars, and industry events, the program introduces participants to international standards, rules, and invaluable networking opportunities. Emphasizing adaptability to market trends, green producing, and business development, the program promotes diversity and inclusion. Documentary Campus is a non-profit organization supported by the European Union's MEDIA Programme and various film and media foundations.
Website: https://professionals.idfa.nl/
IDFAcademy, an intensive training program held during the International Documentary Film Festival Amsterdam (IDFA), engages 100 emerging filmmakers annually. With a focus on international career expansion, the program includes talks, sessions, and round tables featuring esteemed professionals. It provides a platform for filmmakers to apply general knowledge to their projects, fostering long-term development. The diverse selection reflects IDFAcademy's commitment to supporting new talent, inviting participants through open calls and collaborations with international institutes.
Website: https://www.sff.ba/en
Docu Rough Cut Boutique, a impactful workshop, serves as a support squad for documentary filmmakers navigating the challenging rough-cut phase. High-profile mentors, rigorous selection criteria, and intensive group sessions enhance the structural and thematic aspects of projects. With a success rate of 90% finished projects and over 25 awards won, Docu Rough Cut Boutique, part of the Sarajevo Film Festival, inspires filmmakers to elevate their documentaries.
ESoDoc – European Social Documentary
Website: https://www.esodoc.eu/
ESoDoc, a European Social Documentary initiative, spans eight months, offering media professionals the chance to enhance storytelling and co-creative skills. It aims to broaden the potential of documentary and new media projects for a larger market. ESoDoc emphasizes inclusivity, diversity, and collaboration, fostering a cross-sector environment. Through intensive project development, workshops, and masterclasses, participants gain insights into diverse storytelling techniques, audience engagement, and international market dynamics.
– An extensive 8-month project development process, spanning four phases with a blend of residential and online sessions.
– Engaging lectures from globally renowned professionals, offering insights into the latest, provocative, and groundbreaking trends in documentary filmmaking.
– Continuous project development, emphasizing the implementation of innovative storytelling techniques suitable for diverse formats and platforms.
– Practical workshops designed to enhance analytical skills and empower participants to connect with and influence their target audience through the most effective media channels.
– Masterclasses led by industry experts, offering valuable insights into the international market and building confidence to engage with a broader range of partners and funders in the audiovisual sector and beyond.
– A collaborative environment that encourages experimentation with fellow participants and experts in the project development process.
– Tailored training to assist in creating a comprehensive "Pitch Deck" suitable for both residential and online pitching forums.
Website: https://dokincubator.net/
Doc Incubator, since 2010, has been a think-tank facilitating the transformation of good films into exceptional ones. The international documentary rough-cut workshop operates from Prague, aiming to strengthen the creative documentary industry. In collaboration with various festivals and programs, Doc Incubator has worked with over 150 films, many premiering at renowned festivals. The workshop focuses on high-quality development, equipping filmmakers to master new market strategies.
Website: https://afo.cz/en/home/
Camp 4Science, a training and networking event for filmmakers dedicated to developing science documentary projects, offers participants the chance to work on storytelling, visual style, and production strategies. The program explores the international science film market, thematic television slots, and alternative funding sources. Participants have the opportunity to make crucial industry contacts and pitch their projects for a chance to win the grand prize. The workshop is open to producers, directors, and individuals with a science background interested in documentary filmmaking.