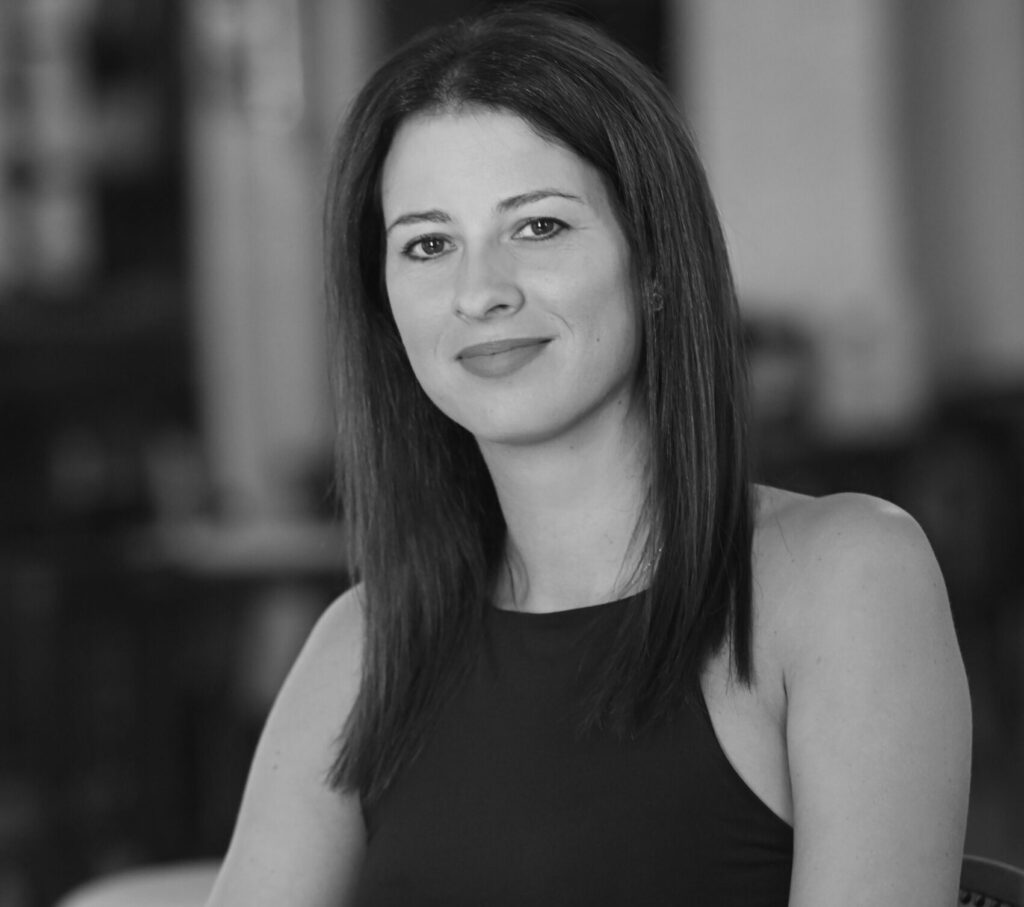 Exclusive interview for Her Story, Her Future with Éva Demeter, the soul and the festival director of the Alexandre Trauner ART/Film Festival (EN)
Her Story, Her Future: Éva, could you share with us the beginnings of your journey in film festival organization? What drew you to this field?
Éva Demeter: I have a personal story to tell here. Tisza Cinema which is home to the film festivals is our family business since 1990. My father is the director, and my mother is the programmer. When I was a small child, I used to play in this building hide and seek, I was drawing on the back of the posters and took part of the film festivals. The participants of the festivals – film directors, fine artists etc – became our friends and it was natural for me to spend my free time and vacations in a cinema environment. Even during university, I helped in the organization of the festivals, with my English knowledge I worked in the administration part, then was also a pre-jury and I handled the emailing with the participants and other foreign guests of the events. Later, I became a so-called festival secretary and then main organizer and festival director since 2019. So, cinema for me is a passion, particularly the festivals with their special atmosphere and colourful programs – which I design and make it alive.
HSHF: Reflecting on your career, which professional challenges stand out as significant contributors to your growth?
ED: Coming back from maternity leave, it was a professional challenge to get back to work again. Also working together with my family, having my dad as my boss, my mother, sister and brother as colleagues, could be considered as a personal challenge which had to be taken care of. But back to the topic I can say that each position and with that acquiring new tasks was a new area, that I had to learn and adapt, which took time. I also had to realize that I need to learn how to write successful tenders to be able to finance the film festivals. It was a huge recognition that it is not enough to have creative thoughts, in order to make them happen, there shall be a stable financial background behind the event. I also had to identify that I have to travel and build relationships, network, take part in other film festivals, conferences, labs, seminars etc in order to learn and develop myself and my festival. To be honest this is the part that I like the most in my work – this travelling, meeting people and learning opportunities. Since I am coming from the Faculty of Arts, the biggest challenge was to learn how to deal with financial part of the work, putting together budgets, make ends meet and handling the pay-off periods of tenders.
HSHF: Have you ever considered taking on a mentoring role for aspiring filmmakers or engaging in educational initiatives?
ED: No is the answer for mentoring of filmmakers, as I did not take part in film studies, I would not be able to guide young filmmakers properly. However, there was the time where we helped out young filmmakers in 2020 (high school age) to make their own film, called Half a Million Eyes. We helped them providing camera, light, cameraman and scenes for the shooting, also accommodation and other financial aid to carry out their project. Yes – is the answer for engaging in educational activities as our cinema plays a key role in young people's media education. We have all sorts of programs which foster the better understanding of European film culture of students, such as our current project, Cinema 4 You(th) – with the participation of Slovakian, Croatian and a Hungarian art cinema. We also have summer film camps for two age groups (12-14 and 14-18 years old), film making workshops, masterclasses, film clubs etc.
HSHF: From your perspective, what are some common challenges that women, particularly in the film industry, often face?
ED: Finding a balance between building your carrier and spending enough time with my children, in one word, finding the balance between personal life and professional work. Also, I think women earn less in the film industry, they have less chance for career opportunities. I was happy to see that in past Europa Cinemas programs there were many women working in the field of cinema management and cultural institutions. I think it is a positive tendency that women started to appear more on these previously mentioned fields, it shows that they can do as valuable work as men on the same spectrum.
HSHF: Can you provide insights into the distinctive work carried out at Tisza Cinema Ltd., the unique film space you're involved with in various international grant projects?
ED: The project, called Cinema 4 You(th), involves the TISZApART Cinema in Szolnok, the BÉKE Cinema in Miskolc, the Uránia Film Theatre in Esek and the Kino Usmev in Kazan, supported by Europa Cinemas and the Creative Europe Media Programme. The project is mainly aimed at 13-25 years old and includes free elements: a series of 16 screenings of European films, a post-film discussion, film quizzes and a group of young participants in two film festivals, Cinefest in Miskolc (2023. The aim is to teach young people how to create film recommendations for their peers on social media platforms. For those interested, they could participate in a free preparatory film camp at TISZApARt Cinema in Szolnok from 24-28 July 2023 under the guidance of film expert Viktor Dudás. The aim of the C4Y project is to introduce young people to European film culture, to broaden their knowledge of the art of cinema and to participate in two international film festivals where they can meet international stars and young people delegated by the partner cinemas.

HSHF: Please share with us what aspects of Alexandre Trauner's legacy have left a lasting impression on you, influencing your role as the festival director and shaping the vision of the Alexandre Trauner ART/Film Festival.
ED: As for the past, we also finished last year an almost 2-year- project called Resonance Cinema (Cultural Hub for curious minds) which was in collaboration with a Bulgarian, Slovenian and Croatian arthouse cinema. In scope of the project, we held film and music nights, Youtuber workshops, VR events, film screenings and discussions for the disabled audience and audience meetings with the film crew of the screened films. The partners and a group of students from each country also visited each other at two film festivals, in Sofia in Bulgaria and Szolnok in Hungary.
As for the future we will take part in an international tender called "Cinema without barriers", in which people with disabilities will be in focus and the fact that culture and in particular, film experience shall be accessible for everyone.
HSHF: Could you elaborate on the unique identity that sets the Alexandre Trauner ART/Film Festival apart from others?
ED: I think our festival is unique in a way that it is the only film festival in Europe, and I guess in the word too that combines production design with the topic of science and fine art. It is also a festival that invites students and teachers from 9 different universities where film making, media and communication, production design, graphic art, animation is taught. The festival's atmosphere is unique too, involving a historical building of an art house cinema, a synagogue and creating a familiar, cosy, cultural environment. I would also highlight the side programs of the festival which are valuable too: concerts, exhibitions, round table discussions, conferences, book presentations, masterclasses, university programs etc.
HSHF: In your role as the festival director, how do you envision creating opportunities and support systems for emerging talents and young professionals within the Alexandre Trauner ART/Film Festival?
ED: We like to work with young people, their creative mind and energy is something we could make good use of. During the film festival we provide them free accommodation and meals, also free accreditation. We engage them to submit their films into one of our festival competition categories and we try to give financial aid for them to make their next film. for example: we distributed 14600 eur among the awarded filmmakers at this year's film festival. This was provided by the Hungarian National Film Fund and by the National Television and Media Authority. We also give them a chance to take part in the student jury, to make videos, interviews with the film professionals, juries of the festival and they can take part in the masterclasses held by well-known international starts like: Peter Greenaway (filmmaker), Allan Starski (production designer) or Joseph Hodges (production designer), Jean Rabasse (production designer) etc. They often gather material on these lectures for their own thesis. But it also happened in the past that a young guy became a film director by the influence of taking part of our film clubs. We also give young talented people to show their talent: perform with their music band, showcase their new book, or exhibit their work in the café of the cinema. We also keep providing opportunity for students to hold a program: Film Futures, which is a film screening of the newest diploma films of the universities and there is a moderated talk after, so students can get to know their fellow peer groups, see each other's work and talk about the education system they take part in. This is very useful as they get a picture of their own work and can compare it to others.
HSHF: For filmmakers navigating the industry, what valuable advice would you like to offer based on your experiences and observations?
ED: They should use all the opportunity for studying in their own field and should take part in workshops, trainings where they can acquire new skills, get to know their international colleagues, build future relationships with other people from the film industry and participate in international tenders. Once they start working with foreign colleagues the world open up, that is the only chance for development on a long term basis.