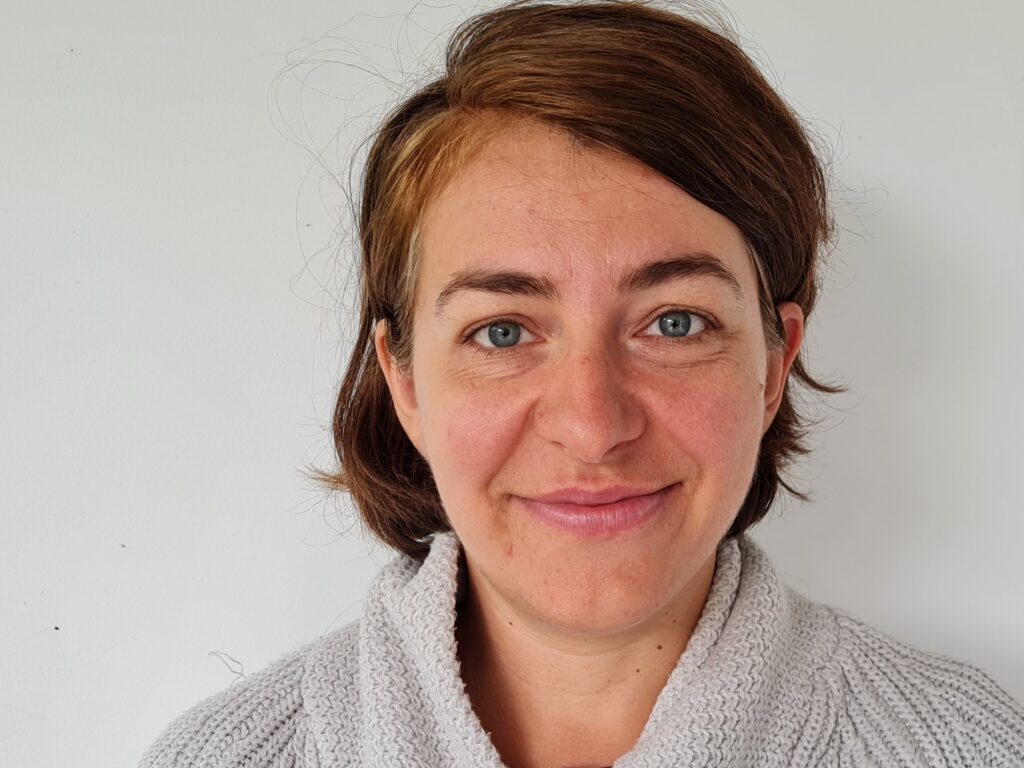 Biography:
Ileana Stӑnculescu has been coordinator of the international documentary film festival CinéDOC-Tbilisi since 2013. She studied at the film academy Konrad Wolf in Potsdam Babelsberg (Germany). Ileana Stanculescu graduated with the documentary: "Podul peste Tisa" (The Bridge), which won among other prizes the first Appearance Award at the International Documentary Festival in Amsterdam and was selected by major festivals. Later she directed the documentary "Satul ṣosetelor", received the Co-production award of the Robert-Bosch-Stiftung and was nominated for the Joris Ivens Award at IDFA. Ileana produced the Georgian documentary "Akhmeteli 4", directed by Artchil Khetagouri, awarded the Prix Regards Neufs at the Visions du Réel Film Festival and winner of the main award at the Rhodes Film Festival in Greece.
Ileana works for the "NOOSFERA Foundation" since 2011 and coordinates workshops such as "Docstories Black Sea" (co-funded by the Media Mundus Program of the EU), in partnership with IDFAcademy. Other workshops coordinated are: CinéDOC-School workshops for Georgian teachers who screen and discuss documentaries in class, CinéDOC Summer School (summer school for filmmakers from Armenia, Azerbaijan and Georgia), New Talents Caucasus training and pitching sessions, Film Mentoring and Film Support Programme (for documentary filmmakers from the South Caucasus and Central Asia).            
Her Story, Her Future: Documentaries are present in your life, both as a filmmaker as well as the festival coordinator of the international documentary film festival CinéDOC-Tbilisi. How did you start on this journey?
Ileana Stӑnculescu: I started to love documentary films during university, when I was studying screenwriting in Germany at Potsdam Babelsberg. I really liked many documentary-type shows that I watched in Romania as part of a broadcast from France. When I arrived in Germany, I watched a documentary film that I liked very much and eventually I started watching many documentary films. It was a three-hour film, a kind of voyage in an abandoned area with villages where several different ethnicities lived. Some houses were abandoned, in others there were people that retuned. It was a very beautiful and poetic film, it stayed in my mind. Since then, I often watched documentary films. That was in 1999, but that movie got me. That film is called "Cold Motherland" and it was filmed in the 90s, when the borders fell and it was possible to travel and see what happened in these occupied, former Soviet areas.
HSHF: Your first documentary "The Bridge" observes the process of the re-building of a bridge over Tisa between Romania and Ukraine at the start of the 2000's. The film is layered, as it observes a multicultural universe around the bridge, while it is a slice of the bigger and complicated history. Can you talk about how did you work on this early film and how do you think back to it nowadays?
IS: I think that this first documentary film was an inspiration for me. I finally looked more closely at what my father was doing, who was in Romania and who was helping the mayor of Sighet to rebuild a bridge destroyed in the Second World War, over which my grandmother from Ukraine was crossing – during the time when my grandmother lived there it was the teritory of Czechoslovakia. So, it was an area where borders moved, there were occupations, people were deported, a multi-ethnic area exactly like in that movie I told you about and which was an inspiration for me. What was also inspiring for me was the fact that I went there with my father and saw how that bridge was being built. It was complete madness with meetings on both sides of the river, with parties, with drinks, with friends, with gossip. People gossiped among themselves and said: "Don't trust that person because he is a member of the secret services, don't trust this person because he is with the mayor and so on." It was an atmosphere… I didn't imagine that those people would manage to build the bridge until the end. That inspired me. Furthermore, it was a sudden opening: people wanted to see each other, to meet, to cross the border, they no longer wanted to be closed behind the Iron Curtain. When we got there, the mayor of Slatina, the town across the border from Ukraine, who was Hungarian, went with us to the river bank where there were bushes and trees and he found the wire fence that had separated the two communities for so many years, he cut it down and said: "Let's get rid of the Iron Curtain now". He was a very nice mayor, open and motivated to do the bridge project. So this was a very interesting period, with many hopes for a better future, for joining the European Union and moving on. I think that's why the bridge was built, despite the difficulties and the lack of funds. Unfortunately, now we see that a terrible war is going on there, history has turned to this negative and very difficult side, with new closed borders, with crimes and deportations, which I would never have imagined during that time when I was filming there. I never imagined that something like that would happen in Ukraine.
HSHF: Your films tell stories that unfold in time during a process and observe some charismatic protagonists. How do you decide that a story/character is going to be worth making a film about?
IS: Everything happens spontaneously when you start a project. In a way, you know from the beginning, but it depends on what the project is about: if it's about a person or if it's about a subject like the bridge. From the beginning we kind of knew that the main character would be the bridge, but we didn't know how to go about it and we filmed all kinds of people who seemed interesting to us, but who had nothing to do with the bridge. Then we were told: "Stay there at the border, see what happens and try to find those characters who really do something for the bridge."
Indeed, the character must be interesting, charismatic, and open to be filmed. Some characters are very close to the subject, the bridge-keeper of the bridge, a very nice old man who always had a story to tell about the chaos during the construction and with whom we became friends and whom we visited many times. He showed us a dwarf without a head, because for him that dwarf symbolizes exactly what was happening at the bridge. But there were also other people whom I met simply by filming. For example, while we were filming an abandoned salt mine in Slatina, Ukraine, a man with a few sheep and his grandson passed by us and simply stopped in the frame in front of the camera and started talking. And he spoke so beautifully and sadly and nostalgically that he remained in the film. We became friends with him, we filmed him more later, but this spontaneous scene remained until in the film.
If we are talking about characters in another film I worked with Artchil Khetagouri, with whom I have been working together for many years, on "Noosphere", there it was clear that we would focus the whole film on the sociology professor, who had a theory about the future and a theory about love, teaching it to his students in Bucharest. But, although his theory was so beautiful and perfect, in his everyday life everything was a bit the opposite and upside down. He has divorced several times and shared his apartment each time he divorced his ex-wife. While filming him, we realized that only him and his theory are not enough to sustain the film and that these wives, who were so important in his life because he loved them all, should also be part of the film. Therefore we started filming also his ex-wives, who no longer represented the theory, but represented life itself with all its problems and conflicts. So everything happens somehow during the process of the filming. You decide sometimes later what to do and how, whom to include in the film.
HSHF: Can you talk about CinéDOC-Tbilisi and how the interaction with audiences has evolved since the first edition of the festival?
IS: The CinéDOC-Tbilisi festival had its first edition in 2013. At the beginning, we didn't know how many people would come to watch documentary films, because here in Georgia, just like in Romania, documentary films have a pretty bad reputation. People think there are those movies that appear on TV only with archive material, with a narrator who tells you what happened, takes you by the hand and leads you to the end. But quite a lot of people came to the first edition, there were many youngsters in the audience and we were happy because at other documentary festivals in Europe there are usually not that many young people, mostly the older audiences visit the fetsivals. This encouraged us to organize the following editions as well. The audience grew year by year until we reached the pandemic when we had a sudden stop. But even in the first year of the pandemic, in 2020, we managed to host the festival near a lake, a little outside the city, in a drive-in cinema. And there was an extraordinary atmosphere, people joined and there was that kind of connection typical for a festival.
HSHF: CinéDOC-Tbilisi is also known for being a professional platform for documentary filmmakers in Georgia and in the region. Whom are the workshops targeting and how do they work?
IS: From the beginning we considered it important to organize workshops for film directors from our area. Before the film festival we had th workshop DocStories BlackSea and there were film directors from the Black Sea area participating. This workshop encouraged us to always have a workshop even during the film festival. We focused more on the support and involvement of directors from Armenia, Azerbaijan and Georgia, because this is the area where we live and work. We also had summer-schools, where we gathered in a small town, watched movies in the evenings and the film directors worked together on various hands-on projects. They had international tutors, but they also made short films in that city and edited them together. Since the pandemic, we have turned these into something bigger – the Film Mentoring Program. It is a project during which, for a period of three months, directors from Armenia, Azerbaijan, Georgia, but also from Kazakhstan, Kyrgyzstan, Ukraine, Moldova work online with international mentors on their projects and present them at the end after three months. Afterwards a pitching session is held, to which representatives of festivals from all over Europe participate: for example IDFA, Vision du Réel, Cph:Dox, Doc Leipzig, Jihlava. There were many who joined this year. The interest in this area has increased, especially since the war in Ukraine. Many have realized that these countries are not Russia and cannot always be represented by directors from Russia. At the end, the participants also win prizes-Film Support Awards, through which they are helped to start the production or complete the editing of the film, for example.
HSHF: If you were to recommend one film that intrigued you recently, which one would that be and why?
IS: A movie that I liked lately is "Young Plato". It is a film from Northern Ireland about a school principal who grew up during the wars between Catholics and Protestants in Belfast and had a very turbulent youth, with violence, with borders, with a lot of social problems, drugs. But he managed to save himself because his mother believed in him, defended him all the time and motivated him to study. He became the director of a boys' school, studied philosophy and nowadays is trying to encourage children to think for themselves, not to be aggressive and to accept the opinion of others, to think twice before answering something. He teaches philosophy to children in a way that it is not difficult for them to understand, it is not very complicated, but it helps them in life. It is a very positive film, with the children's reactions which are extraordinary, and we will screen it here in Georgia – the film protagonist will come and talk to the teachers who show films in schools. It is a new project and we try to show documentary films in schools through the teachers we select and they show the films and discuss them with the children.
HSHF: Do you work on any new project/initiative that you would like to share?
IS: A project we care a lot about because we believe it can have an even bigger impact than the film festival itself is CinéDOC-School. We started it spontaneously during the pandemic, because before the pandemic a lot of children were watching films as part of a dedicated section, CinéDOC-Young, in the film festival, already from the festival's first edition. During the pandemic it was impossible to have the children watching a film in a cinema hall. A teacher who was bringing her pupils to Tbilisi from a town in the west of the country told us: "Let's watch some documentary films online". Everyone was on Zoom back then, no one was meeting in person, so we thought of showing the films online. We started, it was extraordinary – people missed talking to each other, meeting in person, but back then it was lockdown. We started showing online films for children – there were many children from various schools. To this day, even though two or three years have passed, the children remember how nice it was when they saw movies online and met and had the chance to talk with children from other schools, from other regions that they did not know in real life. After that, the pandemic ended and we started inviting school teachers to workshops in Tbilisi, where we simply talked to them and explained to them how important it is to show children these documentary films. They also understood how important it is, but for example they did not understand how to create a cinema-like atmosphere in the school: to have the necessary equipment in the school, to have a space where the sound and image are good. We created an online library to which they have access via a password, so that they can log in and choose the movie they want to show and discuss with the pupils. The films are divided into categories: for younger children, for older children and thematically.
Now the project works very well, there are already 100 schools involved and thousands of children who watch documentary films regularly. The teachers also organize small film festivals in the regions they come from. We have just returned from such kind of small festival in a town in the west of the country. We also try to bring film directors onsite or organize online discussions with the film directors who live outside the country. The children are extremely happy to meet the people who made the films and to talk to them.
We also started doing small exercises, such as writing stories or making short films together with the children.
In addition, we also do dubbing: the children speak in Georgian and we record them, they are like little actors, so that the films are dubbed in Georgian instead of having Georgian subtitled. This is an exercise that they like immensely. We do casting, we select the children and then, for the screening the resulting film, the whole family comes to watch it. I hope it will be a project that will change something in the society. A few days ago we interviewed four girls who were involved in this project from the beginning and all four told us how much the project changed their lives. We were extremely emotional when we heard what impact this project had on them.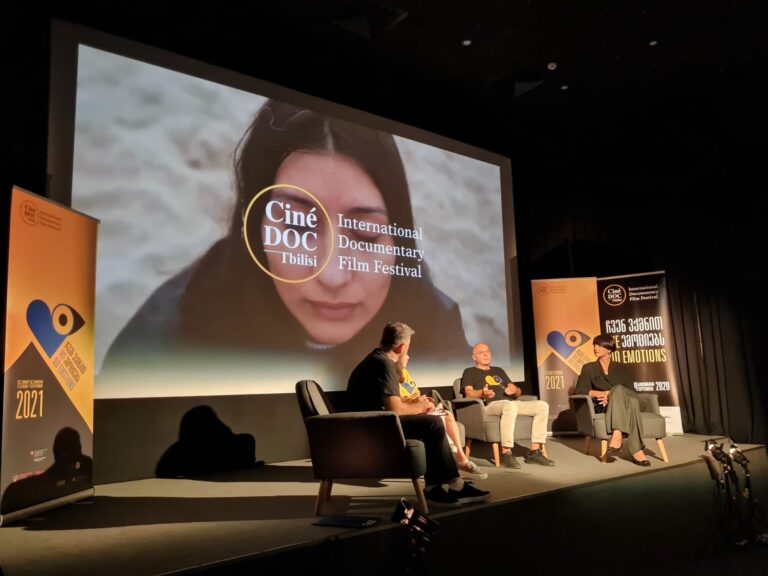 Photo taken within CinéDOC-Tbilisi film festival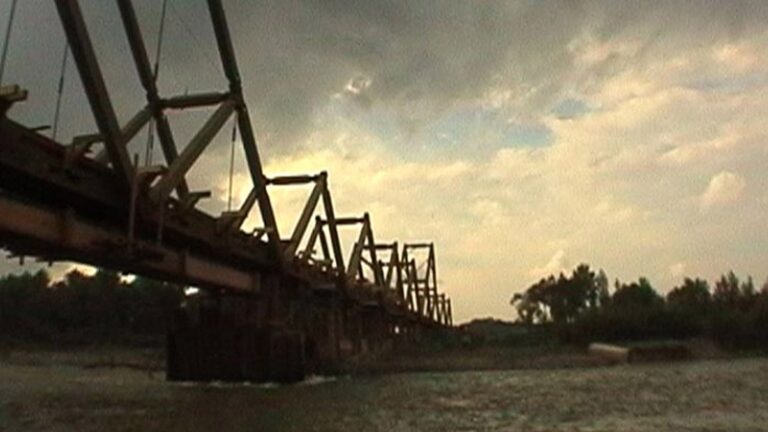 Still from documentary film "The Bridge" by Ileana Stӑnculescu